Can I tell you something? This is soup that will make you want to lick the bowl. Go ahead, no one's looking. I am not going to lie to you, I have. It is that good. I first fell in love with it when we lived about two blocks away from a Bennigan's Restaraunt in Clearwater, Florida. Every time we went there this was the first thing I ordered. Even before I could decide what I was going to have to drink, I knew I was going to have a bowl of this delicious soup. And ever since I found this recipe I have been making this in large batches to keep in the freezer, for when I'm having a craving (which is frequently) for it.
This last week-end I had my mom over and we made a double batch and now it is her favorite as well. It's really very simple to make. The ham base gives it that added depth that you just don't get from other potato soups.
This dish is similar to a favorite potato soup that many people (including myself) went to Bennigan's for. This is a thick and filling potato soup that warms the soul.
Bennigan's Potato Soup
Recipe Courtesy of Copycat-recipes and CDKitchen.com
Ingredients
1 ¾ oz ham base
2 quarts chicken stock
8 oz yellow onion, diced
3 oz
margarine
, I prefer to use butter
2 lb potatoes, cut to bite size
1 ½ tspn black pepper
2 cups milk
3 oz flour
3 oz
margarine
,butter
Directions
Combine chicken stock in sauce pan with ham base. Stir until lumps are gone. In separate stock pot: melt first
margarine
butter measurement; add onion and sauté until transparent. Add potato bite size pieces and pepper. Add chicken stock mix and stir until well mixed. Bring mixture to a boil.
In small pan, melt second
margarine
butter measure and add flour to create a roux. It should be light brown in color. When stock comes to a boil, add roux with a wire whisk. This will cause the soup to start thickening. Return to a boil. Slowly add the milk.
If the soup is too thin, make additional roux and add it to the soup. If you need to do this, be sure to cook the roux until a tan color. This will get rid of the raw flour taste. If the soup is too thick, thin it out with more milk.
Garnish with cheddar cheese, bacon, and green onions.
Makes 10 - 1 cup servings.
I really just can't say enough about how much I love this soup.You are just going to have to take my word about how good it is and at least give it a try.
I am sending this to Deb over at
Kahakai Kitchen
for
Souper Sundays
, Erin at
EKat's Kitchen
for
Friday Potluck
, Julie at
Get Healthy Cheap
to
Mangoes and Chutney
for
Fat Camp Friday
, and Angie at
Cocicna Diary
for
Sundays at One
. and to Cassidy at
Remodelaholic
for
Recipe Swap Sundays
.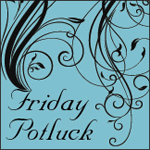 I am also adding a few photos of my new cooking space (pantry/prep room) in my larger and now comfortable new home. I am so loving all of this room that I have now. Ha, we're not even bumping into each other unless we want to.
Yes, we are loving all of this new found space we have. We are only renting for this first year and are considering buying it next year, as the owner is looking to sell.