It's Family Style with Giada De Laurentiis at
IHCC
this week. For my entry this week I chose Penne with Shrimp and Herbed Cream Sauce from her book: Giada's Kitchen. You can also find it here on
Food Network
from her 2008 Secret Santa episode on Giada at Home, which I happened to remember actually watching back then. Her quote in the book:
"This dish is comforting yet elegant, which is why I like to serve it at gatherings during the winter holidays. Best of all, it's a very quick and easy go-to recipe for when you're short on time and need to deliver something special".
OK. I have to tell you we didn't think so. It may have been because I realized that we were out of bottled clam juice and had to substitute bottled oyster and shrimp sauce, which hence the shrimp I thought would be fine. We actually found this recipe very void of flavor. I have to say that this is the very FIRST time I have not been pleased with one of her recipes, although I will have to give it another try using the clam juice, at which time I will let you know if it was any better. So when I realized this dish was bland I decided to add some very thinly sliced pepperoni to it and , voila, it did enhance the dish to a palatable flavor.
I will tell you this much, it is quick and easy. Cook your pasta, drain and set aside. Saute your shrimp in a little olive oil, garlic, salt, and pepper. Remove shrimp and set aside. (Which is when I realized I hadn'd taken the camera out. OOPS.) Next add the tomatoes, half of the basil and parsley, and the red pepper flakes to the skillet and cook for 2 minutes, stirring constantly. Add the wine and simmer another 2 minutes. Add the clam juice and cream and bring to a boil. Reduce heat to med-low and simmer for 7-8 minutes until the sauce thickens. Add 1/4 cup of the Parmesan cheese, the shrimp, the drained pasta, and the remaining basil and parsley. Toss together unil everything is coated with the sauce. Season to taste with salt and pepper if needed.
You may or may not want to add some thinly sliced pepperoni. That is entirely up to you. Any number of protien additions can be added or substituted in this recipe. Though like I said I will try it making the sauce with the bottled clam juice next time. We loved it after our own little addition.
Penne with Shrimp and Herbed Cream Sauce
Ingredients
1 pound penne pasta
1/4 cup olive oil
1 pound medium shrimp, peeled, and deveined
4 cloves garlic, minced
1/2 teaspoon kosher salt, plus extra for seasoning
1/2 teaspoon freshly ground black pepper, plus extra for seasoning
1 (15-ounce) can whole tomatoes, drained, roughly chopped
1/2 cup chopped fresh basil leaves
1/2 cup chopped fresh flat-leaf parsley
1/4 teaspoon crushed red pepper flakes
1 cup white wine
1/3 cup clam juice
(I do not recommend substituting)
3/4 cup heavy whipping cream
1/2 cup grated Parmesan
1/4 cup thinly sliced pepperoni
(my addition)
Directions
Bring a large pot of salted water to a boil over high heat. Add the pasta and cook until tender but still firm to the bite, stirring occasionally, about 8 to 10 minutes. Drain the pasta and set aside.
In a large skillet, heat the oil over medium-high heat. Add the shrimp, garlic, 1/2 teaspoon of salt, and 1/2 teaspoon of pepper. Cook, stirring frequently until the shrimp turn pink and is cooked through, about 3 minutes. Using a slotted spoon, remove the shrimp and set aside.
Add the tomatoes, 1/4 cup basil, 1/4 cup parsley, and the red pepper flakes. Cook for 2 minutes, stirring constantly. Add the wine, clam juice, and heavy cream. Bring the mixture to a boil. Reduce the heat to medium-low and simmer for 7 to 8 minutes until the sauce thickens. Add 1/4 cup of the Parmesan, the cooked shrimp, the cooked pasta, and the remaining herbs. Toss together until all ingredients are coated. Season, to taste, with salt and pepper. Add sliced pepperoni if desired.Transfer the pasta to a large serving bowl. Sprinkle with the remaining cheese and serve immediately.
This is my contribution to this weeks
IHCC's Cooking with Giada Family Style
.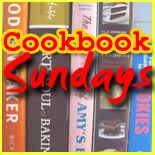 Also for the first time I'm entering
Potluck Sundays
over at
Mommys Kitchen
hosted by Tina.
Well I can't wait for the coming weeks posts for Giada's Potluck Dinners. I know exactly what I am going to make. I've made it many times since first seeing it on one of her shows, though I've never posted it to my blog. It presents beautifully and is one of my absolute favorites from her. Tastes as good as it looks too. I am drooling and dazed just thinking about it. Want to know what I'm making? You'll just have to check back in to see what all the excitement is.
Carla and Michael